Are you trying to rethink your social media marketing strategy for 2018? You're absolutely right as the social media landscape is in flux and any change directly impacts your online presence.
Before you plan and break down your marketing budget for the new year, catch up with these 2018 social media marketing trends to be able to make educated decisions. The following infographic is courtesy of the team at Filmora.
Social media marketing predictions for 2018
Here are the key takeaways and you will find more in the infographic below.
1) Video is a priority
80% of global traffic will be attributed to video by 2020.
2) Audiences prefer live streaming
Facebook Live Videos are watched 3x longer than regular ones. Live streaming itself is expected to become a $70.5 billion industry in a couple of years.
3) The rise of ephemeral content
Ephemeral content is short-lived content that can be found on social media for a very short period of time, usually for up to 24 hours. You're probably thinking that it doesn't make sense to invest in something that will disappear in a few hours but, surprisingly, it might be.
A lot of brands have embraced this tactic to share behind-the-scenes insights, product sneak peeks, promotions, etc.
4) Augmented Reality is on the rise
Since about 2013, AR has been gaining more and more traction, especially with social media platforms like SnapChat and Facebook adopting it.
5) AI & Chatbots are ubiquitous
The prediction is that by 2018 30% of our chat conversations will be with chatbots. Most of them can be used to provide 24/7 customer support.
6) Generation Z
People born between 1995 and 2012 are spending more time online than anyone else.
7) Influencer marketing
Influencer marketing is the fastest-growing marketing channel outperforming organic search, email and digital advertising. In fact, 94% of marketers who invested in influencer marketing said it was effective.
8) Mobile content
The number of smartphone users is growing year on year and is expected to total 2480.4 million in 2018. The only social media which people access via desktop more often than via mobile is YouTube.
9) "Dark social"
"Dark social" is any private messaging, e.g. via WhatsApp, Messenger, Wechat, email, etc.  Their global market share has reached 69% and brands are increasingly taking part in dark social interactions.
Catch up with more social media marketing stats in the infographic below:
Here's also a recap of online lead generation ecosystem: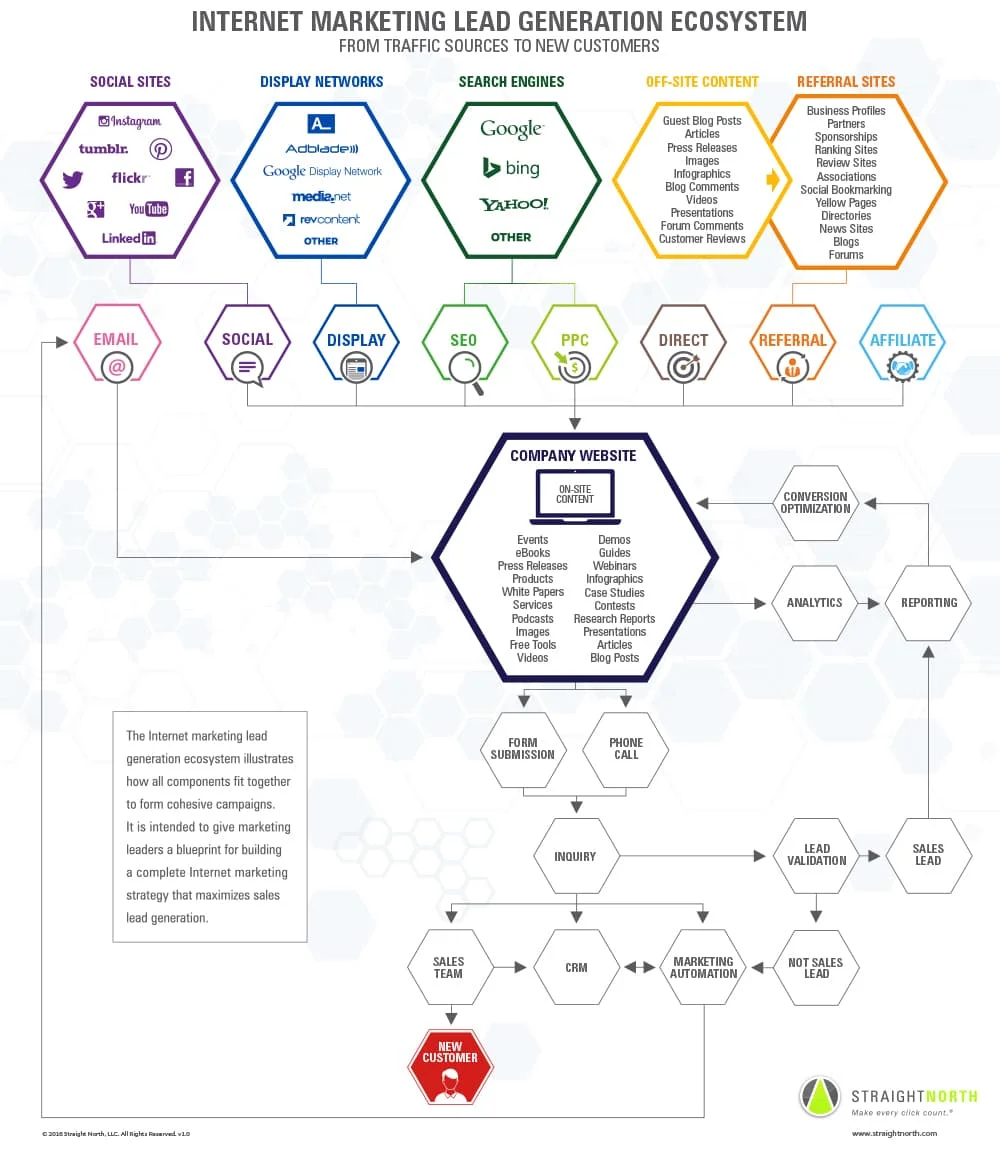 Created by Straight North